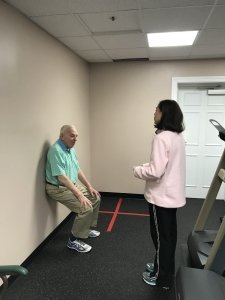 There are many reasons why we tend to slow down and become more sedentary with age. It may be due to health problems, weight or pain issues or worries about falling. But, as we grow older, an active lifestyle becomes more important than ever to your health. The right exercise can help boost your energy, protect your heart and even help you manage symptoms of existing illness or pain, giving you a better quality of life.
Exercise helps you look better, but most importantly, you'll feel sharper and experience a greater sense of well being when you move regularly.
According to Erin Glass, Brightwood's onsite fitness trainer, the most important component of fitness for seniors is balance. An easy way to work on your balance is to perform calf raises – these help strengthen your legs. Another functional exercise for balance is to move from a sitting to a standing position. These are simple moves you can do at home on a regular basis to enhance your balance.
When walking, Erin says, it's important to practice your heel to toe gait. This prevents shuffling of your feet, which greatly reduces your risk of falling.
If you experience mobility challenges, you can still move while seated. Arm raises and shoulder rolls help protect your joints and improve your blood circulation.
A professional trained in senior fitness can help you tailor a program that's customized with your current strengths and limitations. No one is too old to see the benefits of regular exercise.
For more information about Brightwood and Erin Glass's programs, call us at 410-339-3210.